さようなら、バニラエア ~ LALALA LAST FLIGHT
The Last Vanilla Air Flight Just Landed –
Starting Tomorrow, It's Only Peach Aviation
バニラエア 成田から最終便出発 
社員ら涙と笑顔で別れ 


Last year, ANA announced that it would be merging
its two low-cost subsidiaries, Vanilla Air and Peach Aviation.
Naturally, it decided to discontinue the lesser known Vanilla brand
and keep the better-known Peach one.
Earlier today, Vanilla Air's last scheduled flight landed,
bringing the six year history of the airline to an end.
Vanilla Air Completes Its Integration Into Peach
The airline held "send-off" and "welcome" events at Tokyo Narita
These flights, the latter of which landed at Tokyo Narita at 6:11PM,
However, the actual last revenue flight of Vanilla Air
was flight JW158 from Taipei to Fukuoka.
The flight was operated by JA12VA,
the A320 that operated flight JW103 earlier in the day,
and landed in Fukuoka at 8:06PM.
Vanilla Air's last revenue flight. (※)
(※)revenue flight ⇒《航空》商用飛行、実用[有償]飛行
non-revenue flight ⇒ 無償飛行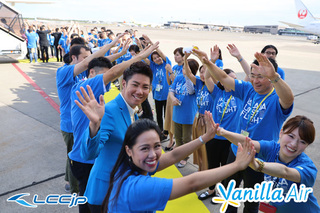 感動機内スピーチの
↑ 竹内さん
(左列二人目かな)
Vanilla Air was born out of AirAsia Japan in 2013
after
AirAsia
exited its investment out of the joint-venture with ANA.
The airline operated both domestic and international flights,
mainly out of its Tokyo Narita base.
It operated an all-
Airbus
A320 fleet.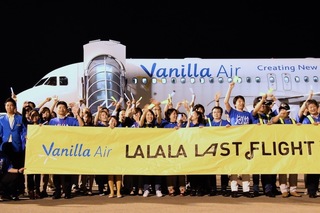 ↑ この中には七田式で英語を勉強した人がいるかもですね…
AirAsia Japan was relaunched in 2017
as a partnership between AirAsia
and a number of other Japanese companies including Rakuten.
Peach Aviation commenced operations in 2012
as the first Japanese "true"
low-cost carrier
.
Originally starting with domestic flights,
its network has grown to include destinations
in South Korea, China, Hong Kong, Taiwan, and Thailand.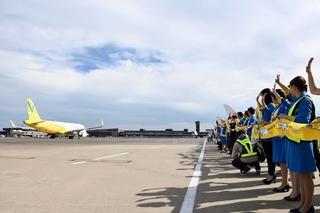 Currently it operates an all-A320 fleet just like Vanilla Air did,
however, it also has a pair of A321LRs on order.
Peach plans to use those for further expansion into Southeast Asia.
A Peach A320 taxiing at Sapporo airport.

にほんブログ村
Today marks the end of ANA operating
two
separate low-cost subsidiaries
.
While as an aviation enthusiast,
I would have preferred for both of the airlines to stay around,
from any other point of view it wouldn't have made sense.
After all, the only reason that ANA found itself
in the situation in the first place was
AirAsia's exit from its first joint-venture in Japan.
Discontinuing the Vanilla Air brand
will allow ANA to focus its resources on growing
Peach
rather than having to juggle both of the airlines.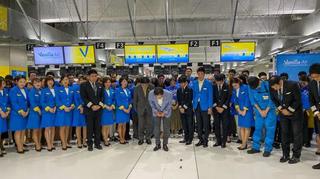 This will hopefully lead to faster growth of Peach and more routes
both within Japan as well as from Japan to the rest of Asia.
ピーチ、
テレビドラマ「おっさんずラブ-in the sky-」
の特別機を2019年11月1日~12月21日 運航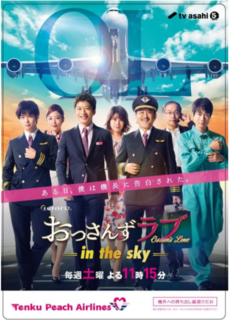 ピーチ(Peach Aviation)は
テレビ朝日の土曜ナイトドラマ「おっさんずラブ-in the sky-」と
コラボレーションした特別機「OSSAN'S LOVE JET」を
11月1日~12月21日に運航する
特別機はドラマに登場するピーチがモデルの航空会社
「天空ピーチエアライン」のロゴ入りの機体で
日本・アジアで運航予定
ドラマの放送期間中は
撮影の裏側情報などを盛り込んだピーチ機内限定の
特別リーフレットを全機のシートポケットに順次差し込むほか
公式オンラインショップ「PEACH SHOP ONLINE」にて
番組オリジナルの「天空ピーチエアライン」グッズの
一部の販売を予定している